Yonder Mountain String Band
November 17, 2019 @ 7:00 pm

-

10:00 pm
Levon Helm Studios presents Yonder Mountain String Band with opener The Drunken Hearts on Sunday, November 17, 2019.
YONDER MOUNTAIN STRING BAND
For the past 20 years, Yonder Mountain String Band has redefined bluegrass music, expanding the traditional acoustic genre beyond its previously established boundaries by steadily pushing the envelope into the realms of rock n' roll and improvisation. YMSB—guitarist Adam Aijala, bassist Ben Kaufmann, banjo player Dave Johnston, Jacob Joliff on mandolin and violinist Allie Kral–has always played music of their own design, in the process attracting a devout following of fans that often resembles a tight-knit family on an epic musical journey as Yonder traverses the country with an ambitious tour schedule. Yonder is a quintessential ensemble honing its craft night after night on the road, and the fans are there to experience it in real time. The result is music that doesn't stand still, it's always progressing and breaking unprecedented ground.
Yonder Mountain String Band's last new album, LOVE. AIN'T LOVE (2017) is undeniably the Colorado-based progressive bluegrass outfit's most surprising, creative and energetic studio excursion (of their 12 studio offerings) to date. Songs like "Chasing My Tail" and "Alison" are rooted in tradition but as current as tomorrow, animated by electrifying performance, vivid production, and the modernist power that has made Yonder one of the most popular live bands of their generation. Melding sophisticated songcraft, an irrepressible spirit, and remarkable instrumental ability, LOVE. AIN'T LOVE is a testament to Yonder Mountain String Band's organic, dynamic, and intensely personal brand of contemporary bluegrass-fueled Americana. Of the album, Rolling Stone said it's "modern bluegrass and punctuated by genre-jumping excursions into world music, reggae and all points in between." And having logged well over 2100 shows together, the band has amassed devoted fans and critical acclaim along the road, with Glide Magazine hailing them as "a cast of likeable characters that let their joyous spirits and ace instrumental capabilities do the talking."
The band has hit the road in 2019 armed with new material that will first get road-tested, and get the studio treatment later this year. This material will undoubtedly be in line with what you'd expect from Yonder Mountain String Band: edgy and genre-defying music without boundaries.
THE DRUNKEN HEARTS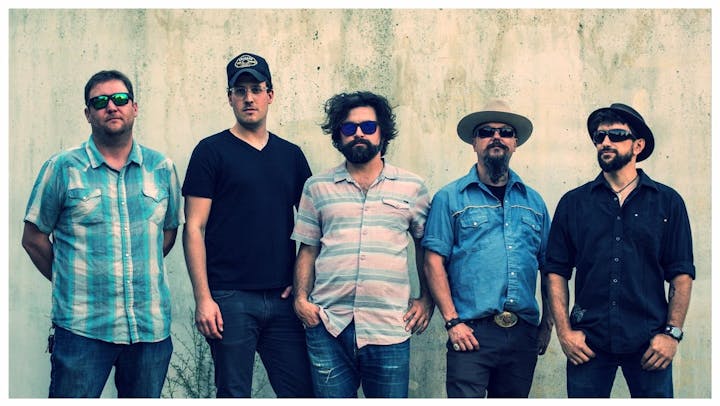 "Electrifying Americana Rock"
From their humble inception as an acoustic trio, The Drunken Hearts have evolved into an electric five-piece that is captivating audiences across the country. In those few years, the Colorado-based group has managed to make a name for itself in a state that is known for cultivating world-class music. The band fearlessly bottles a tempestuous, yet honest brand of Americana music — infusing spirited vocals with electric and acoustic instruments, and crafting heartfelt songs that are resonating with crowds everywhere.
Originally an outlet for lead singer and acoustic guitarist, Andrew McConathy, he knew in his heart the band must expand musically to satisfy a growing songbook of original material. It was this ideal that inspired a band capable of writing and performing songs that convey whispers of love and loss, while also delivering full-on rock anthems that chase down the American dream.
With this evolution, the band is releasing their most acclaimed album to date, The Prize, in March of 2018 — an album that fully realizes the unique yet familiar sound the five musicians evoke when they create and perform together night after night. The ten songs featured on The Prize seamlessly unite their poetic and thoughtful songwriting with impressive musicianship to bring each track alive. From the vulnerable and haunting, "Seasons," to the rowdy honkytonk-inspired "Broken Things," The Prize is a powerful statement to where The Drunken Hearts currently are, yet more importantly— where they are going.
Building on the release of The Prize, the band is touring the country from coast-to-coast, with stops at famed venues and festivals along the way. With notable performances at Electric Forest (MI), FloydFest (VA), Vertex (CO), Fayetteville Roots Fest (AR), Hangtown Music Festival (CA), Bohemian Nights at New West Fest (CO), Northwest String Summit (OR), and the band's very own YarmonyGrass (CO), the band is very much at home on the festival circuit. Tyra Sutak of Elevation Outdoors Magazine described her experience as "Magnetic. It's one of the only words my buddy and I could agree on to describe the feeling of the first time we caught Colorado-based band, The Drunken Hearts, live."
Related Events