The Front Bottoms with Brother Bird
December 14, 2019 @ 8:30 pm

-

11:30 pm
The Front Bottoms with Brother Bird at Pearl St Pub
The Front Bottoms (formed in 2007) is an American indie punk band that combines pop, rock and punk influences with witty and often surreal wordplay, hailing from Woodcliff Lake, New Jersey, U.S.
After finishing his first year of college, vocalist, guitarist and lyricist Brain Sella, along with childhood friend and drummer Mathew Uychich, began playing together under the moniker The Front Bottoms. They had been writing songs since sixth grade and first performed together at their high school talent show, playing an original song and a Modest Mouse cover. Before long Uychich's brother, also named Brian, joined the band playing keyboard. In 2007 the EPs "This is Ours but You Can Have It" and "You're My Boyfriend Now" were released, along with a year later their debut studio album "I Hate My Friends".
The band supported the releases, initially with local shows around New Jersey, before working their way along the East Coast, playing anywhere that would have them. After releasing their second DIY album "My Grandmother vs. Pneumonia" in 2009 and the EP "Slow Dance to Soft Rock", Brian Uychich left the Front Bottoms to focus on his education. In 2011 the band signed with independent New Jersey label Bar/None Records, who issued their eponymously-titled label debut in September of that year.
The band made a name for themselves for their extensive touring, enlisting the help of bassist and backing vocalist Tom Warren and guitar, trumpet and keyboard player Ciaran O'Donnell to do so.
The Front Bottom's released their fourth full-length album "Talon of the Hawk" in May 2013, inspired by the character Hawk from the David Lynch TV series "Twin Peaks". The album earned a critical response from the musical press and spawned the video and single "Twin Sized Mattress". The band has subsequently issued the EP "Rose" released in June 2014 again on Bar/None Records.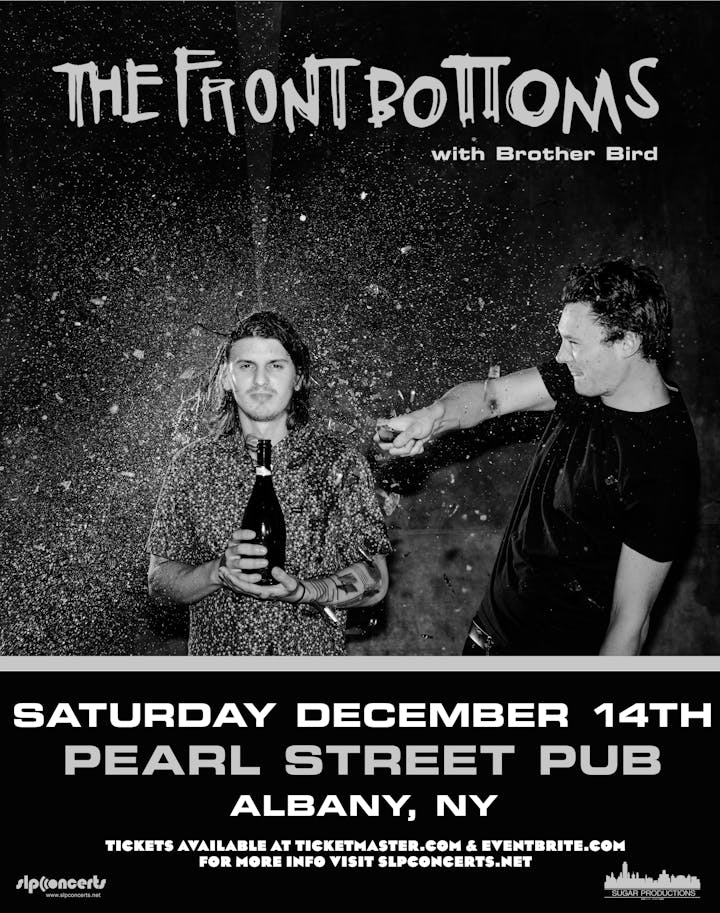 Related Events